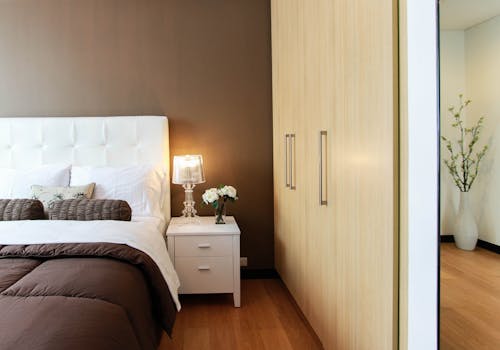 It doesn't matter whether you've bought a three-bedroom mansion or a small studio flat, there are certain essentials any new bedroom needs. It ranges from furnishings like carpets, curtains, a bed and cupboards. You should create an environment where you can relax and unwind. All you want to do is kick off your shoes after a long day.

No matter what design or style you're going for in your bedroom, there's a handful of pieces that should be considered when buying furniture. It can sometimes seem like a daunting task to buy furniture pieces, but with a little planning, you can bring together an entire space nicely.

The size of your space doesn't matter, a good piece of furniture can make all the difference in creating a cosy, comfortable and welcoming bedroom. This furniture gives the room a feeling of warmth and completeness. It's the place where you catch up on some reading and well-earned rest.

Here are five furniture pieces you should have in your bedroom.

A bed frame


The bed is one of the biggest furniture pieces in your bedroom, therefore the frame size is very important. It doesn't matter whether you have a single, full or queen-size bed. Before heading off to the shops, make sure you measure the area to make sure the desired size will fit your bed. Remember, a bed frame isn't just something to make your room appear more full. A stylish and modern frame can be the focal point of your bedroom decor and add potential storage space. There are many bed frame styles to choose from. When you're busy with research, you'll see that some of them come with headboards and footboards. If that's what you want, you should remember it'll take extra space.

A good mattress




Depending on your type of bed, mattresses come in many styles and offer different support options. It's

suggested that people with bad backs should sleep on a firmer mattress

while others may prefer one that's soft and plush. Mattresses with high quality can last for ten to twenty years, which makes them a long-term investment. You should just clean it regularly. The inner workings (including springs, memory foam and latex) of a mattress come in many styles, too. You should choose the size of your mattress according to the available space. When buying a new bed, you get a mattress with it. You can also buy it separately if you feel your old one isn't good enough anymore.

Bedside table


While the bed is always the most important piece in any bedroom, the room isn't complete without at least one bedside table. Having a nightstand next to your bed lets you keep a lamp, alarm clock and even books right next to you while sleeping. The height of the bedside table should reach to about the top of your mattress. It should be placed within arm's reached. There are many styles of nightstands to choose from. It goes with the bed set but you can buy them separately  too. It's made of wood to give that extra modern feel. For a comprehensive and finished look, you should make sure the bedside table match with the other furnishings.

A cupboard or dresser


After a bed, the cupboards are the second most important furnishings needed in any bedroom. It'll store all your clothing and will also tie your bedroom together. You should first look at the amount of space in the room before buying a dresser. A variety of sizes and styles are available to you, from simple drawer designs to built-in cupboards. Dressers, no matter the style, are generally made out of wood. A well-made, high-quality one is often made out of solid wood, which is durable, attractive and a bit pricey. However, it's a once off purchase and a good investment to make.

Mirror


Many don't think of a mirror as bedroom furniture. Little do they know this is just as important as the rest of the furniture. A mirror is an essential furniture piece. You'll usually find it in the bathroom but sometimes you have to check your look before you step across the threshold of your bedroom. You almost always need a mirror to take a good look at yourself. If you have a big cupboard, you can always attach a mirror to the door If not, then the bedroom wall is your next option. Many cupboards are sold with a mirror, so perhaps you can get one of those.



Always be on the

lookout for affordable bedroom furniture

. These are just a few of the furniture pieces every bedroom should have. You're spending one-third of your life sleeping, so it makes sense to get all the necessary essentials for a comfortable room.


Comments
comments