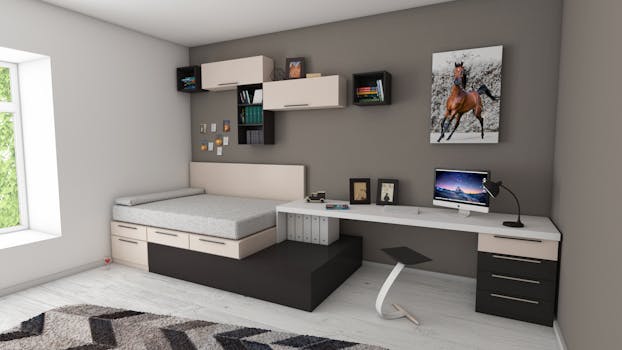 Take a moment to look around your bedroom. Are you happy and do you love what you see? If not, then it's time for a revamp. By doing an online search and browsing through a few DIY magazines, you can transform your space without spending a lot of money. Your bedroom is one of the most important rooms in your home. It's the place where you relax and unwind at the end of a long day. So it's important that you give it a little decorating love and attention.
There are brilliant ideas out there for home decor and interior design. So there's no need for you to live in an old, drab bedroom any longer. All the resources are at your fingertips. There are also DIY tutorials on everything from how to whitewash old wooden furniture to how to create a photo frame.
Here are a few ways to change the style in your bedroom.
Add colour
Opting for a bright and vibrant colour can completely change the feel of your bedroom. Your room will immediately look different. Changing the colour scheme is one of the common ways to revamp your bedroom. It can be anything from repainting the walls to adding pictures. Some repaint all the walls the same colour while others only paint one, which will then be an accent wall. You can also
buy new bedding sets
. Whether they're stripes, florals or abstract, if they're in a vibrant colour, they'll add something special. If you want to, you can repaint your nightstand or other furniture pieces.
Change the knobs or handles
This is another easy and affordable way to revamp your bedroom. You can change the knobs or handles on your dresser, nightstand or closet. The knobs are easily recognisable, so you might want to choose modern-looking ones. Or even better, take out the current knobs and replace them with differently styled ones. That way you can mix modern with either vintage or chic. Which will give your dresser or nightstand a brand new look.
DIY a bookshelf
Are you looking for a place to store your textbooks? Look no further because you can
build your own bookshelf
. It's a simple woodworking project you can do in a day or two. With some knowledge on how to build one, of course. It's a low-cost project which will immediately bring a new look to your bedroom. Many students study in their room, so having your textbooks right there will be convenient. If you don't think you're able to build one yourself, ask your parents for help.
Try different lighting
Do you only have one light in your room? Why not spruce things up by adding a few more? Just remember that a bedroom shouldn't have abrasive lighting but rather simple and subdued illumination. So, rather opt for nightstand lamps that are close enough to the bed. But they should have different brightness settings to match your mood. There's also the option to use string lights that are likely to create a magical and relaxed atmosphere. You can poke them through holes in canvas and at the same time create a wall art. Or you can have them hanging around your bed, either draped between high bedposts or let them hang down with thin fabric around the perimeter of the bed.
Create photo frames
Decorative frames are beautiful artwork to have in your room. You can get cheap frames from your local hardware store and paint them in your theme colours. Now what are you going to put in your frames? Well, it all depends on your personality. You might have old artsy photos you could print out and frame. Or perhaps you have a few favourite quotes which you can type out to frame. Another option is to get one big frame and pin different pictures or quotes to it.
Add a bit of fabric
There are a lot of things which can be updated when it comes to the fabrics in your bedroom. From curtains for the windows to new throws and blankets for the bed. One of the latest trends is to pile mounds of decorative pillows on top of the bed. Then you can also pin pieces of different fabric to a board and put a frame around it. You'll then have a fabric picture. Or leave the frame and pin the fabric for a more simplistic look. The good thing about fabric is that it comes in different colours and patterns. So you'll have the opportunity to experiment with it.
These six tips to revamp your bedroom are simple enough that even the least crafty person could complete them. You might have to play around and try out different things, but it'll be all worth it at the end.
Comments
comments