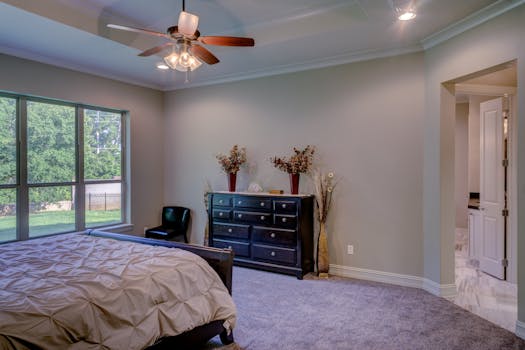 More time is spent in your bedroom than any other room in the house. Regardless of the fact that you're asleep for most of the time, your bedroom should still reflect your personality and individual style. If you walk into your bedroom and still see memories from your childhood, well that's when you know it's makeover time. Your personality has changed over the years and so should your bedroom.

You should think about what you need from the space. If you're, for instance, spending a lot of time reading then it's a must to have the proper lighting and cosy arm chair. If your bedroom is maybe more like a living space you're using for more than sleeping  then you should think about creative ways to integrate home entertainment into your space.

Sometimes all you need is change. But for your bedroom, the change doesn't have to be big. You can redecorate your personal space with what you already have. Here are a few tips to bring some of your personality into the bedroom.

Layered textures



If you want to bring a modern touch to your bedroom, layering various materials is key. Think about layers such as velvet, cotton and linen. The

patterns on the bedding sets will also make for a cosy atmosphere

. If you want to create a sense of unity throughout the room, then it's best to choose patterns that suit your personality, style and colour. Remember to remain within the same general colour palette. The more layering in your bedroom, the more comfortable and warm the room becomes.

Bring in some artwork



This is one of the easiest ways to personalise your bedroom. It's a personal form of expression. An easy way to

bring artwork into your bedroom is by creating a focal wall

. It'll break up the traditional look of having four walls that are painted the same colour. It'll also draw your eye, and anyone else's, to a particular part of the room. And this is a chance to experiment with colour and bring in some personality. You can even choose paintings, sketches or photographs that speak to your style. Arrange photos from when you were little to now in a neat way. Or buy affordable artwork from flea markets or secondhand shops to add something a little different to your bedroom.

Find the perfect lighting

Lighting can change the vibe in your room. It's often neglected, even though it has a critical impact on your comfort and functionality. As mentioned earlier, you should choose to light the space according to your personal style and taste. If you're a reader, you will need proper lighting. But if you spend most of your time watching movies in your bedroom, then the lighting doesn't have to be as bright. And lighting sets the mood in a bedroom. Or if you want a modern look and feel, then mismatched quirky vintage bedside lamps with twinkle lights strung above your headboard might be an option. With the perfect lighting, you can make all the difference in your bedroom. Consider unconventional light sources to achieve the effect you're looking for.

Choose the right furniture



You should

use your imagination when furnishing your bedroom

. Find furniture that allows you to decorate your personal oasis with your own unique style. Are you a carpet or tile person? Do you prefer built-in or the normal cupboards? Do you want a single or queen-size bed? It's important to have the right furniture that suits your personality.

Choosing the right colours

This is the most personal space in your home, so let the colours you love be your guide. Are you a bright kind of person or do you prefer neutral? To enjoy your time spent in your bedroom, choose a colour you love. And this applies for your tiles or carpets, walls, cupboards, bedding sets and curtains. You should choose a theme and a colour that matches it. It's best if you choose colours within the same family as they have a similar effect.

Sometimes a little rearranging of furniture can make a huge difference. It's also likely to make your bedroom feel more like you. You shouldn't be afraid to swap and move items around the house. If you want to change the decor in your bedroom, you can consider swapping items with another room and save money in the process.

Make your bedroom come to life by bringing your personal and unique style into it. A bunch of fresh flowers can add a burst of colour and whimsy to your bedroom. Choose your favourite flowers and replace them regularly.


Comments
comments