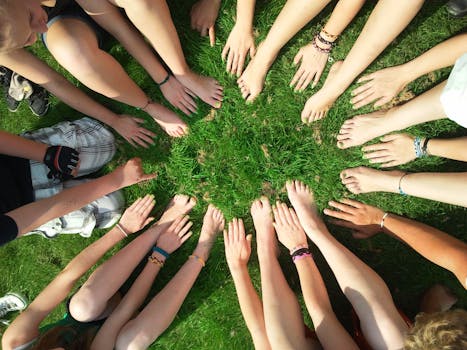 Volunteering, something many consider doing but an experience only a few undertake. Spending time as a volunteer can change your life. It can play an even bigger role if you do it internationally. You'll be right at the heart of local communities, giving you the opportunity to spend time with various people. You can immerse yourself in different cultures and give back in a meaningful way. And if you choose a volunteer project that's been sustainable and long-term, it'll ensure you contribute to a broader journey.
There are many international non-profit organisations you can join. Some of which include World Wide Fund for Nature,
Médecins Sans Frontières
and Rotary International.
Here are a few benefits of volunteering abroad.
Develop new friendships
Long distance friendships can feel frustrating. But spending time volunteering is a guaranteed solution. You'll get time to know the people you work with on a daily basis. Sharing the intense experience of working towards a common goal is a way to start friendships. You'll be closely working together in a community with little to no resources. There you'll learn each other's strengths and weaknesses.
Accomplishment
Spending time doing charity work will leave you with you a sense of accomplishment. You'll feel you've achieved something or made a difference. And unlike the usual office jobs many do from day-to-day, you'll know your contribution is helping to change the lives of others. It's common for volunteers to discover a new hobby or even a passion for volunteering itself. Many also move into paid work in the charity sector. So not only will it feel like an accomplishment but you may even consider it as a career.
Experience
It's sometimes best to volunteer in small communities and meet the locals. When you're done, you'll have experience working with different people. You'll also learn to work in tough and difficult situations. Volunteering internationally is popular and chances are that very few people have done exactly the same volunteer work. When job-hunting, many companies require you to have work experience. And volunteering is the perfect way to gain that. The job market is challenging, so you need this experience to stand out from the rest. Volunteering will give you valuable experience which can be added to your CV.
Cultural sensitivity
You'll learn new languages and customs that may differ from your home country. Learn or teach yourself these things to avoid the risk of accidentally causing offense. The lessons you'll learn are very interesting and often humbling. It'll often lead you to reflect on how your behaviour comes across to others in your daily life.
Perfect opportunity to network
You'll give back to a community but at the same time you can
use volunteering as a networking tool
. You'll meet people from different backgrounds and of all ages. This is the perfect opportunity to network. You'll develop both personal and professional connections. This is also a chance to open yourself up to people who could offer you a job in the future. Networking and building relationships with people from different backgrounds is important.
Teamwork
It doesn't matter what industry you're in or what type of work you do, chances are you'll work in a team. This is a key skill everyone should develop. While volunteering, you'll work together with a team to achieve a common goal. And if you want to achieve success, you should work closely with various people.
It'll change you
Spending time abroad will change you as it gives you the chance to change the lives of others. Many volunteering opportunities are focused on solving issues in societies. Some of with include cultural education, environment, cultural understanding and career development. You'll have the chance to impact people's lives, whether in the short or long-term. After volunteering, you're likely to see the world in a different light.
It's a career booster
As mentioned earlier, volunteering internationally can be added to your CV. It'll differentiate you from the rest. And having this on your resume will show your character, interest and motivation. You'll get hands-on experience which you won't receive anywhere else. You'll have an opportunity to work in fields such as health, social services and education which can be a stepping stone to international development work.
Volunteering isn't all about hard work, you'll have a lot of fun in the process too. So, if you're thinking of volunteering internationally, remember to do your research. Go out there and explore.
Comments
comments